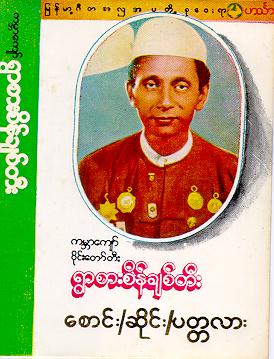 Burmese Classical Ensembles
Sein Chit Ti
New Arrangements for Hsaing Ensemble
The Hsaing ensemble is used in many ceremonies. Its name means "hanging circle" a reference to the drum-circle patt waing. The leader of a hsaing ensemble is usually the patt waing player, as is the case here. Hsaing ensembles often compete on the basis of flashy arrangements and virtuoso playing.

Sein Chit Ti was one of the grand masters of the hsaing ensemble. He was a skilled performer on several instruments, including patt waing, as is his more famous son Kyaw Kyaw Naing. His arrangements of traditional pieces earn the praise of other musicians, although he is unknown outside Burma.

More information on Burmese music and its cultural context can be found in the Hsaing Ensemble web pages of Robert Garfias, including a photo of Sein Chit Ti's ensemble.

In the original cassette, no titles in Burmese were given.