Lao Classical Music
Music of Luang Prabang
A comparison of two recent recordings
Lao and Thai classical music are extremely similar, sharing both instrumentation and repertoire to a large degree. These two recordings allow us to compare both official and unofficial performances of music described as Lao by the musicians. They both were made in the late 1990s as an outgrowth of the growing ties between Thailand and the People's Democratic Republic of Laos.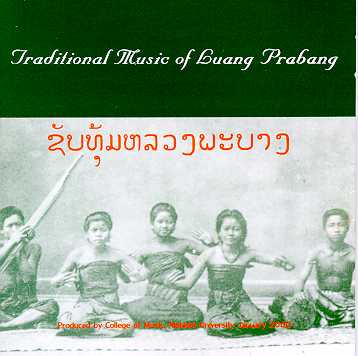 The first was part of a major research project conducted by Mahidol University in close cooperation with the government of Laos. A group of graduate students and scholars collected numerous examples of Lao and ethnic minority traditional music. The classical selections offered here are performed by ensembles with official status in the old royal capitol of Luang Prabang. They are available here with the kind permission of Prof. Sugree Charoensook, at the time Director of the College of Music at Mahidol University.
The first two are by the Luang Prabang City Orchestra. Khab Thum is considered quite typical of Luang Prabang and unique in that it uses a classical orchestra rather than folk instruments as accompaniment to improvised sung verses. The song ends with recitation from classical poetry, a section called an nangsue (read from a book). The second is a classical dance suite comprised of four songs: Phraya Doen Dong (Royal Walk), Sroi Son (pine necklace), Reo (fast) and La (exit).
The last is another Khab Thum, this one by the orchestra of Wat That Luang. It features 72-year-old national artist Singkham Siriwattana and his protege, 45-year-old Buawan Khammalawong.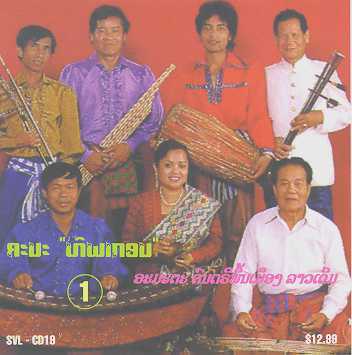 This next recording was a commercial release by a professional ensemble from Luang Prabang. It was widely sold as a cassette in throughout Thailand and re-packaged as a CD by SVL Productions in Texas. These songs appear here by permission of SVL Productions.

The group calls itself Thiphakon (roughly, resonance of angels), and the recording bears the title "Eternal Lao Classical Music." In neither the original cassette nor the CD are any of the musicians identified. The instrumentation includes the standard classical instruments (ranat, so and khim) plus the khen, the quintessential Lao folk instrument. The songs are all widely shared in both Lao and Thai repertoires, but most are likely of Thai origin. The first two are Lao melodies, and the next two are among the most popular in Thai suites.

If you can add to or correct any of the information here, please email me.