Cambodian Classical Music
National Dance Company of Cambodia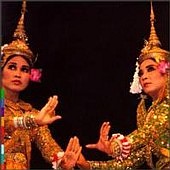 In 1992, the Government of Cambodia helped produce a tour by the newly graduated members of the National Dance Theater. This was an effort to resurrect the work of the College of Fine Arts, which had been destroyed by the Khmer Rouge. Many older musicians and dancers were recruited (of those who survived the Khmer Rouge years) and a lot of support was provided by the Government and foreign aid organizations. This recording was made during the London leg of their tour by RealWorld records. Many thanks to RealWorld for permission to present these selections.

These are examples ofpinpeat, a term related to the Thai piphat. The pinpeat is an orchestra consisting of roneat (xylophones of both wood and metal), khong wong (gong-circles in two sizes), two types of double-reeds and several types of drums. The pinpeat had a dual role in colonial era Cambodia: it participated in ceremonies of state, and it accompanied the classical dance for the benefit of the king. These selections are all from the dance repertoire, and thus seen as a refined form of entertainment.

For recommendations, comments or questions, email me.